---
---
■ Features
The CFRP intake pipe uses 3K twill to create a lacy and luxurious feel.

The inside of the intake pipe is hardened by high temperature and high pressure using a silicon bag to achieve a smooth inner surface and high strength.

The suction resistance has been reduced by optimizing the exposed type air cleaner "Super Power Flow" and the suction pipe layout.

By adopting an air guide and heat insulator, the introduction of fresh air is promoted and stable performance can be obtained.

 

This air guide also adopts CFRP and creates a high-quality feel together with the suction pipe.

The adapter pipe to which the airflow sensor is attached is also color-coordinated with black crystal coating.

The sporty intake sound unique to a bare type air cleaner is also a point.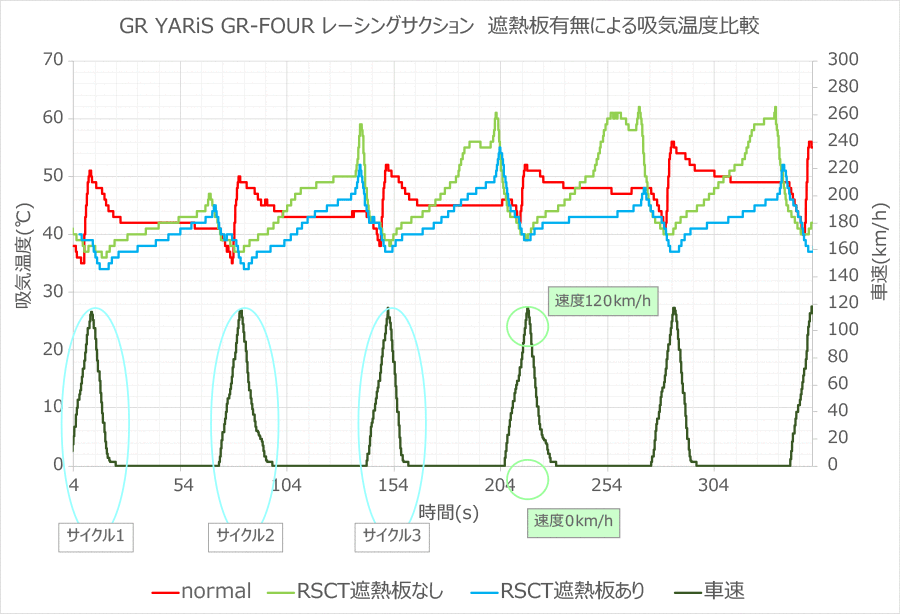 [0km / h ⇒ 120km / h ⇒ stop ⇒ idling 45 seconds] was set as one cycle, and the airflow temperature during stop & GO running was measured and compared.

In normal (red), the intake air temperature gradually decreases as the speed increases from the stable temperature at idling, continues to rise to the peak temperature at a speed of 80 km / h, and gradually becomes stable temperature at idling from accelerator off. To go.




As the number of runs increases, the temperature inside the box rises, making it difficult for the intake air temperature to drop.

Carbon racing suction (blue) gradually raises the temperature when idling.

 

As the speed increases, the intake air temperature drops to the same level as normal for each aircraft.


Carbon racing suction, which suppresses heat buildup, suppresses the overall temperature rise even after repeated runs, and the intake air temperature can be kept low.




If there is no heat shield (green), the peak temperature during idling rises and the intake air temperature is about the same as normal, indicating that the heat insulator is working effectively.
---